John J. Cardill B.A., LL.B.
John J. Cardill
B.A., LL.B.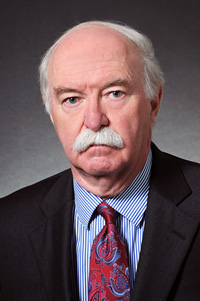 Tel: (613) 728-7150
Fax: (613) 729-9866
jcardill@jclawyers.ca
Call to the Bar
Law Society of Upper Canada, 1974
Educational Background
St. Patrick's College, University of Ottawa, B.A., 1968
University of Windsor, LL.B., 1972
Practice Summary
John's practice is restricted to the areas of civil litigation and family law. He is recognized by his peers as an expert in the field of legal costs.
He has been an instructor at the Bar Admission Course in the areas of civil litigation, debtor creditor and family law. He has delivered numerous papers and legal seminars in the area of legal costs.
John was the co-chairman of the County of Carleton Law Association, Family Law Institute from 1991 to 1996. He was a member of the Canadian Bar Association (Ontario) Committee on Costs and the Civil Rules Sub-Committee on Costs.
John was a principal participant in the development of guidelines for legal costs in Ottawa and throughout Eastern Ontario and was a member of the Advocate Society Task Force on Court reform.
In 2009 John was awarded the Carleton Medal by the CCLA in recognition of his contributions to the profession of law.
He is also a member of the Ad Hoc Committee for the Family Law Pilot Project in Ottawa – a Committee to bring Court Reform to Family Law Proceedings in Ottawa.
*John operates an independent practice and is senior counsel to Cardill Law.*
Professional Memberships
The Law Society of Upper Canada
The County of Carleton Law Association
The Ontario Bar Association
The Canadian Bar Association
The Advocates' Society